After more than a year of dealing with COVID-19, two major architect organizations gathered data to show what kind of impact the emergency "shut down" orders had on the industry.
Overall, the data shows that while 2020 was a challenging year for architects (as well as most industries), there is hope for a "return to normal," and even growth in the months ahead.
In this blog, we'll cover trends in two areas:
COVID-19's Impact on Architect License Activity
2020 Nationwide Architect Project Changes
Before we take a look at the data, we want you to know that we would love to hear your stories of how COVID-19 has impacted your work. Email us your story here for a chance to be featured in a future blog!
COVID-19 & Licensing
A recent study done by the National Council of Architectural Registration Boards (NCARB), found that in 2020, the combination of test center closures, the transition to remote work, and fluctuating demand for architectural services created a significant drop in the number of new architects being licensed and the number of architects reporting their required experience training.
Here are some stand out numbers: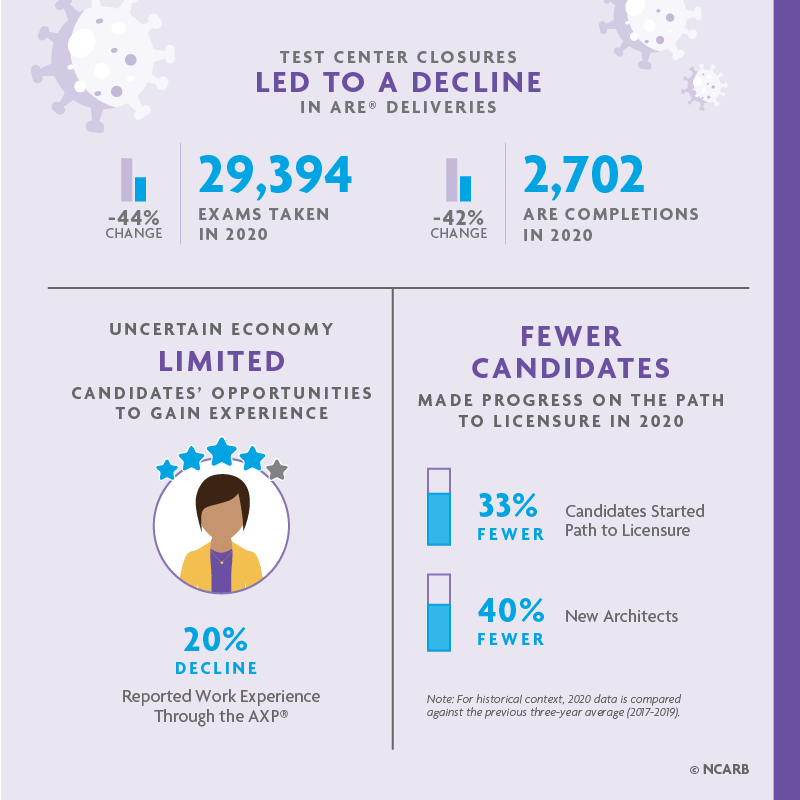 The number of newly licensed architects decreased by 40 percent from the previous three-year average.
Just over 5,800 candidates began their licensure process by creating an NCARB Record—a 33 percent drop from the previous three-year average of 8,800.
About 25,000 candidates submitted Architectural Experience Program (AXP) reports in 2020—a 20 percent drop from the previous three-year average (2017-2019), which can be attributed to increased unemployment and delays to architectural projects.
Despite the significant license-related drops last year, NCARB CEO Michael Armstrong believes there's reason to be hopeful. As of June 2021, most licensure programs have either returned to normal or are coming back stronger.
"As we begin to turn the corner on the pandemic, we are seeing an upward trend that reflects a renewed national focus on infrastructure that protects the public's health and wellbeing. This focus highlights the important role architects play. NCARB is excited to help support the pool of licensed talent, and foster this new period of growth for the field."
COVID-19 & Project Changes
This week, the American Institute of Architects (AIA) in association with Oldcastle BuildingEnvelope, released a market report that provides an "in-depth look at the impact of the pandemic on design firm business conditions."
We downloaded and read through the lengthy report, titled Business Opportunities & Sustainability Trends Amidst a Pandemic, so we could share some of the most relevant findings with you. Below you'll find applicable data that will inform what kinds of projects you can expect to focus on in 2021 and possibly beyond.
2021 Opportunities
While new building construction took a hit in 2020, according to the report, the pandemic created greater demand in two markets: Residential, single-family home projects, and existing building improvements.
From March to September 2020, residential work saw a net increase of 34% for single-family homes and 12% for multifamily according to architectural professionals surveyed, due to the increasing remote workforce around the country. In that same period, respondents reported that work on existing buildings made up the majority of projects (55%) compared with new construction (45%).
With growing concerns over building design from the pandemic, awareness of public health risks, and the continued need to work from home, the AIA expects short-term opportunities for architects to center around residential construction and existing building projects (e.g., refurbishments, expansions, remodels). Many respondents reported that they expect these trends to continue through 2021 with the share of work on existing buildings to increase to 59% by the end of 2021.
One challenge the report brings up when it comes to working on existing buildings, is that many architects don't feel satisfied with "the quality or usefulness of the continuing education, tools, and other content available around existing building work."
That's why we're happy to offer online courses that cater toward both residential and existing building improvements, such as "Environmental Design for Buildings: Best Practices for the Best Design," "Successful Renovations and Additions," and more!
Did you need to shift focus to mostly residential projects last year? How many of your current projects are following the trends shown above? Let us know on social media, or email us at blog@onlinecti.com!